FREE Estimate – Fill Out the "Contact Us" Form
$129/Hour – 2 Movers + Moving Truck
$179/Hour – 3 Movers + Moving Truck
$250/Hour – 4 Movers + 2 Moving Trucks
Or Call Today!
Phone: 469-305-1233
Address: 4114 N Central Expy Dallas, TX 75204
Hours: 8AM-6PM Sunday-Saturday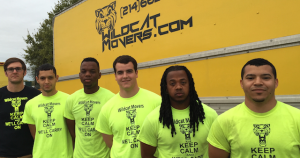 Wildcat Movers Dallas, TX
Wildcat Movers noticed a large demand for moving in the city of Dallas. Our Plano location has been servicing the greater Dallas Metro since opening our doors in 2012. We are now in servicing moves from our parter facility Extra Space Storage at 4114 N Central Expy Dallas, TX 75204. Wildcat Movers in Dallas, Texas are experts in apartment, home, office, and storage moving services. We have been in business since 2007.
Dallas Moving Company Reviews
See Wildcat Movers Yelp Page | Dallas TX for customer reviews about our moving company. Also visit Wildcat Movers Google Reviews | Dallas TX.
Read Stefani W.'s review of Wildcat Movers on Yelp
5 Star Google Review
"Movers were friendly, efficient!! Would definitely recommend!! 5 stars"
5/4/2016
Lisa V.
FREE Estimates. Contact Wildcat Movers Dallas, TX.
Apartment Movers Dallas Texas
Wildcat Movers Dallas also services Irving, Mesquite, Garland, Uptown, Medical District, Lower Greenville, Bishop Arts, Deep Ellum, Lakewood, and Design District.
USDOT:  2034801
TXDMV:  006521696C
TXDMV:  888-368-4689