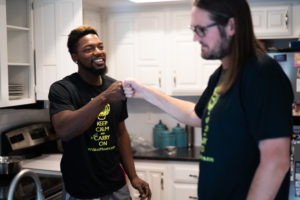 Wildcat Movers Frisco TX
When moving into a new home, office, or apartment, you want a moving company that you can trust. That's why you should call the professionals at Wildcat Movers Frisco TX for all your moving needs. Our affordable moving service is fast, friendly, and most of all convenient. Similarly, we understand just how important your furniture items and belongings are to you. That's why we take every measure to insure their safe transport.
Wildcat Movers Frisco TX understands that moving can be both stressful and physically taxing, so we want eliminate your burden and relieve your moving related stress. Our team of experienced professionals will do everything in their power to make sure you move runs smoothing and according to plan.
Once we arrive to your home, office, or apartment, Wildcat Movers Frisco TX will survey your belongings and develop a strategy to insure safety and maximize efficiency. Above all, calling Wildcat Movers Frisco TX for your next move, you can rest assured that you have made the right decision. Therefore, our moving company is both insured and registered with the TXDMV.
Frisco Moving Company Reviews
It is advisable to read online reviews for any Frisco mover you consider hiring. Check out Wildcat Movers Yelp and Google reviews to see what our past Frisco moving clients have to say about our moving company.
Packers and Movers
On the one hand packing yourself will save you money on your moving cost. However, allowing Wildcat Movers to provide packing services will save your sanity. Wildcat Movers offers packing and moving in Frisco TX. Call today for an in home estimate on your next move.
If you are moving your home, office, or apartment, call the moving company that delivers unparalleled service. Call the professionals at Wildcat Movers. Our professionals will load, secure, transport, and unload your valuables with the utmost care, and our service always comes with a 100% customer satisfaction guarantee. Call Wildcat Movers today for a Free Estimate or Quote.
Movers In Frisco
Frisco Texas is one of the fastest growing communities in the nation. The explosive growth in Frisco has come with multiple sports complexes, shopping malls, dozens of restaurants, art exhibits, and hotels.
Frisco is known for being home to several professional sports teams. FC Dallas plays at Toyota Stadium in the heart of Frisco TX. The Dallas Cowboys practice facility is located in The Star. The Frisco Roughriders are the Class AA affiliate of the Texas Rangers play their home games at Dr Pepper Park. The Dallas Mavericks G league team Texas Legends play at Dr Pepper Arena; and MLL Dallas Rattlers play at the Star.
Apartment Movers Frisco
Apartment moving with stairs or an elevator is much harder than moving out of first floor house. When looking for a moving company to hire for your next apartment movers hire the guys with experience to get the job done right. Call Wildcat Movers today. We have are experienced in Frisco apartment moving. We have moved many clients in and out of Lebanon Ridge, Artistry at Phillips Creek Ranch, Cool Springs at Frisco Bridges, Waterford Market, Sovereign Preston Road, Legends at Legacy, The Civic at Frisco Square, Frisco Summit, Stewart Creek Apartments, Cypress Lake at Stonebriar in Frisco, and AMLI at the Ballpark.
Wildcat Movers Frisco Service Areas:
Dallas Movers
Plano Movers
Addison Movers
Carrollton Movers
Richardson Movers
Frisco Movers
The Colony Movers
Irving Movers
McKinney Movers
Allen Movers