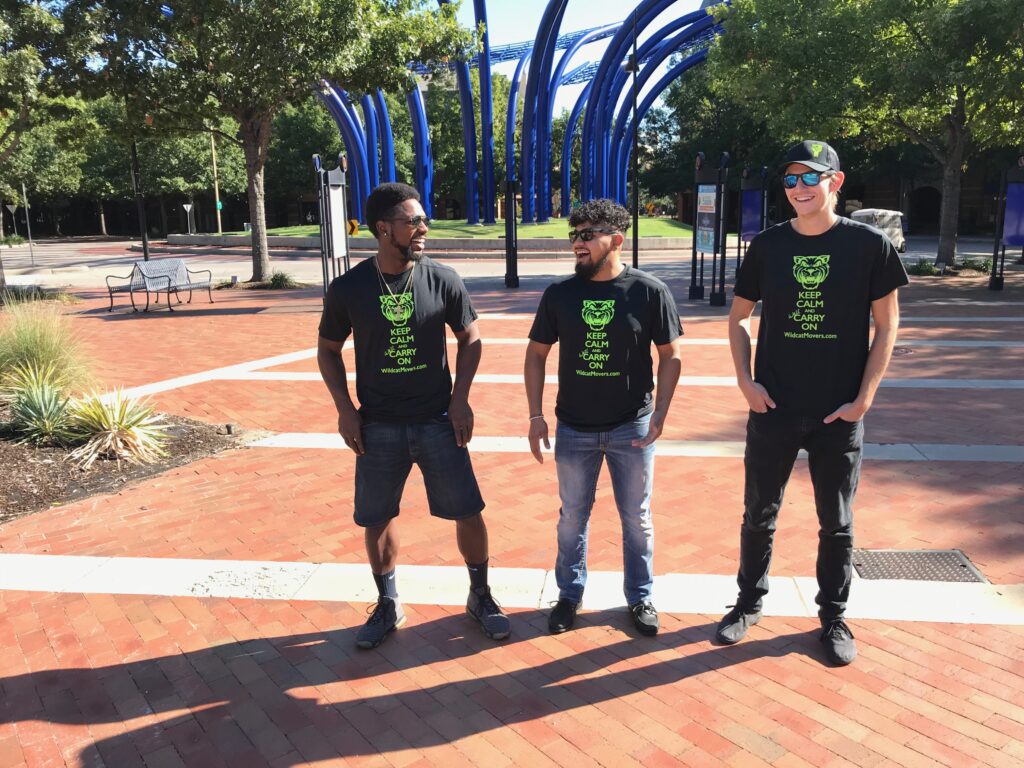 Wildcat Movers
Wildcat Movers in Addison, Texas have developed an exceptional reputation amongst the community. Wildcat Movers is known for our Friendly Efficient Professional Movers. We offer Up Front Pricing, No Hidden Fees, Licensed and Insured. Give us a call and one of our Move Coordinators can assist you with a Free Moving Quote.
Movers In Addison
Addison TX is a unique city located in the middle of the Dallas Metroplex that offers a high density of apartments, condos, and single family homes. Addison is a great place for business, young professionals, and families.
Addison is know for its beautiful parks. Addison Circle Park is the host to all the major festivals in the city every year. It also boast the famous Blueprint Sculpture. Vitruvian Park is best known for its Christmas light display. There are several small hidden gem parks that are great for a picnic or photo background including: Celestial Park, Les Lacs Park, Beckert Park, Spruill Park, Winnwood Park.
The city of Addison host several major events every year. Festival season starts in Addison with Taste of Addison. To celebrate Independence Day, Addison host Kaboom Town every July 3rd. Addison Oktoberfest is a major attraction held at the end of September every year.
Addison Improv Comedy Theatre and Restaurant is one of the most unique destinations in the city. It draws world famous comedians almost every weekend. Other notable Addison restaurants include Ida Claire, Chamberlain's Steak and Chop House, and Kenny's Wood Fired Grill. If you are looking to eat on a budget consider Addison's own Thai Box, The Londoner, or Ramen Hakata.
Addison is home to several great mixed use neighborhoods that boast excellent restaurants, bars, and shopping. Some of our favorites include Addison Circle, Village on the Parkway, Vitruvian Park, and Addison Walk Shopping Center.
Packing and Moving
Wildcat Movers offers packing and moving services. If you don't want to spend several days packing and moving ask one of our Move Coordinators to provide you with a turn key quote for both services. In most cases we can pack in one day and move the very next day. Packers and movers Addison provides exceptional pack and move training to all our local movers.
Thinking of hiring packers and movers near me? Contact Wildcat Movers for a free estimate!
Apartment Movers
Wildcat Movers Addison Dallas TX are expert apartment movers Addison. Call today for a Free Estimate.
We are just minutes away from Post Addison Circle, 15777 Quorum, Allegro, Savoye, Fiori, Prairie Crossing, and Broadstone.
Moving Estimate
Call the professionals at Wildcat Movers flat rate Addison moving company. We offer Free In Home Quotes to all clients with a 3 bedroom home or larger. Rest assured we can facilitate a successful move.
Our professional movers in Addison, Texas, can help you through the entire relocation process, including basic assembly and disassembly of items. You can even hire our long-distance movers for labor if you have all the other bases covered. Best of all, we provide upfront pricing with no hidden fees.
Moving Company Reviews

Read M E.'s review of Wildcat Movers – Dallas on Yelp
Service Areas
Dallas Movers
Plano Movers
Addison Movers
Carrollton Movers
Richardson Movers
Frisco Movers
The Colony Movers
Irving Movers
McKinney Movers
Allen Movers