KEEP CALM AND WE'LL CARRY ON!
YOUR ARLINGTON MOVERS OF CHOICE

When you're looking for the most experienced and reliable movers in Arlington, TX, there's only one name you need to know. Wildcat Movers has earned a strong reputation for being passionate, trustworthy and dedicated to the highest levels of customer service. We're your complete resource for moving services in Arlington, TX, whether you're settling into your dream home or relocating your business to greener pastures. Read on to learn more about us before you reach out for your free quote.
Rated highly for Quality, Value, Responsiveness, & Punctuality
Flat-rate pricing and free in-home estimates
Licenced and insured local and long-distance movers
Smart, athletic, & professional movers
Commercial, residential, & packing services offered
We Put Our Customers First


"Sergio and Lenzie did an incredible job. They were able to make it early which was great. They took care of my stuff and moved very quickly…They were really amazing. Couldn't recommend the company or movers more. Awesome experience!" 
-Chris V. | Google Reviews

Worked Quickly And Efficiently!
"Very pleased with my movers, Dalton and Brooks!! They were very prompt and worked quickly and efficiently! They did an amazing job and I highly recommend Wildcat Movers."
– Shawna B. | Google Reviews

HIGHLY recommend Wildcat Movers
"From first point of contact with Nathan – they were timely, professional, respectful, friendly and treated our property with care…Wildcat made a stressful situation easy! There were no surprises in the cost. Charges were explained in the beginning and covered again at the end."
– Nancy S. | Google Reviews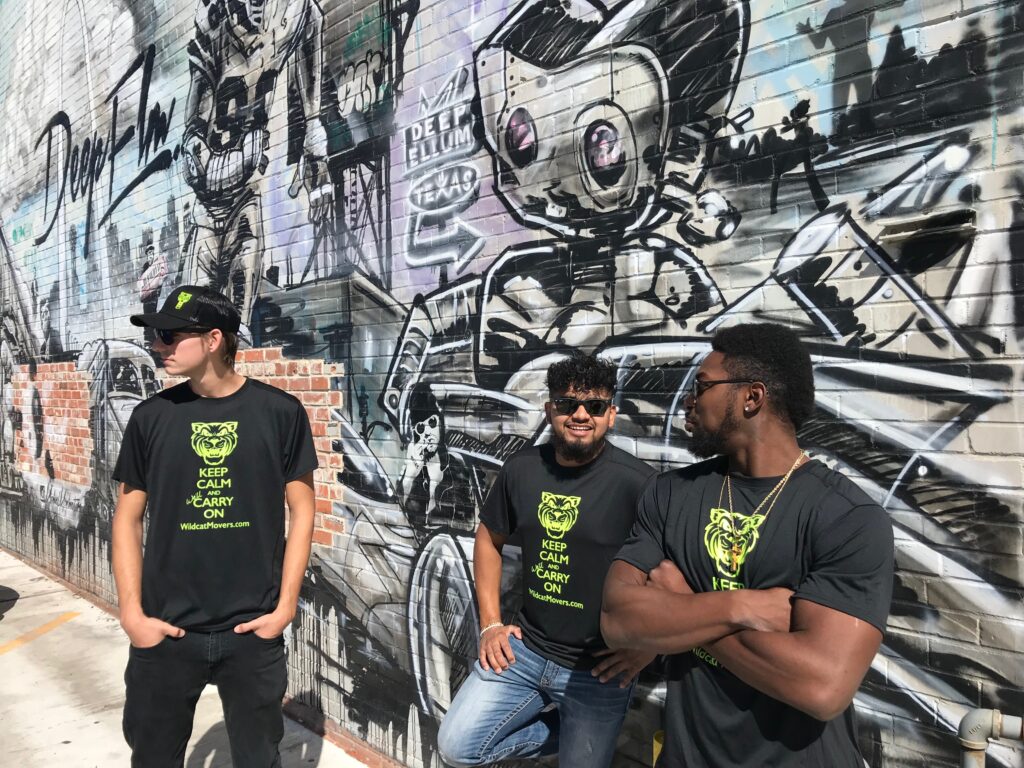 The Name You Can Trust
Our goal is to be the most trustworthy moving company in Arlington, TX. When you turn to us, you can be sure you'll receive moving services that are fast, friendly, convenient and affordable. We know just how stressful relocating your home, office or commercial enterprise can be, and we're here to ease your burden as much as possible. We have a team of experienced local movers who are ready and willing to do whatever it takes to ensure the best results.
When we first arrive at your home, apartment or office, we take stock of everything that's going with you to your new location. We work closely with you, leveraging our extensive experience to create a customized strategy that ensures the safety of your belongings as well as the highest level of efficiency. You'll also gain the security that comes with knowing we're fully insured and registered with the TXDMV.
We also know how important it is to get the most value for your money. That's why we always provide you with a free quote so you can compare how we stack up against other providers. Whether you choose to get a quote over the phone or online, we're happy to help.
Packing and Moving Services
Attempting to move all by yourself can create more stress and anxiety than you need. With our full-service moving capabilities, however, you can save yourself the trouble and let our experts handle everything. We have the experience to pack everything you own so that it will arrive safely and securely. Our crew is well-trained and experienced, treating your personal belongings with the utmost care and respect. On top of that, we provide you with a 100% customer satisfaction guarantee so you don't have to worry about anything.
Moving You to a New Apartment
Even though you may not have as much stuff, moving in or out of an apartment presents its own set of challenges. Fortunately, we know how to handle getting your things up and down stairs or elevators with ease. We're always helping your neighbors throughout the region with comprehensive apartment moving capabilities. Our experience means we will get the job done right for you and with minimal hassle.

Why Choose Wildcat Movers?
We know you have a lot of choices out there when it comes to finding movers in Arlington, TX — but when you add it all up, no one has as much to offer as we do. Our goal is always to ensure that our clients have the smoothest and least stressful moving day experience. No matter what your situation may be, we're here to provide you with affordable, reliable services that give you the best results.
We stand apart from the competition in three key ways:
Free in-home estimates: You can always depend on us to tell you up front what we'll need to do and how much it will cost you.
Flat-rate pricing: There are never any hidden fees or unexpected surcharges when you work with us.
Licensed and insured: Because we take our responsibilities seriously, you can keep calm and we'll carry on.