Wildcat Movers is looking for a buyer of the College Station franchise. If interested please call 214-662-1191.
Phone: (979) 255-7550
Address: 1501 Earl Rudder Fwy College Station, TX 77840
Hours: Sunday-Saturday 8AM-6PM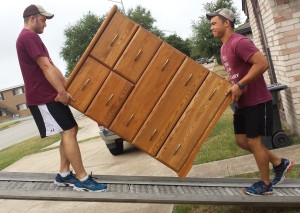 Wildcat Movers Bryan College Station TX
Wildcat Movers started offering moving services to the Bryan College Station, TX community back in 2007. We have serviced 1000's of local moves in the Bryan College Station, TX. As well as 100's of successful long distance moves. Wildcat Movers has always stood for hard work, honesty, and integrity.
College Station Moving Company Reviews
See Wildcat Movers Google Reviews | College Station TX for customer reviews about our moving company. Also visit Wildcat Movers Yelp Page | College Station TX to see our Yelp reviews.
5 Star Google Review:
"Thank you so much for making our move stress free. Thomas and Jarvis are efficient and hard workers. Thanks again from the Combs family."
Oct 26, 2015
Michelle Combs
5 Star Google Review:
"Thomas and Jarvis were very helpful! Would highly recommend using Wildcat Movers in the future."
Sep 27, 2015
Evan Vargas
Wildcat Movers started in 2007 moving apartments in College Station TX. Our moving service now includes large homes, residential, commercial, office, and storage.
Texas A&M University is a huge draw to the the Brazos Valley region.  Wildcat Movers regularly assists Texas A&M with it's moving needs. Give Wildcat Movers a call today, and we will make sure your next move goes off without a hitch.
Wildcat Movers College Station will always send professional, trained, and clean cut movers to assist you with your relocation needs. Here is what you can expect on every move with our moving company.
We service Bryan, College Station, Brenham, Caldwell, Hearne, and Madisonville.
USDOT: 2905907
TXDMV: 007018167C

Movers Reviews College Station TX
City of College Station TX
Texas A&M University