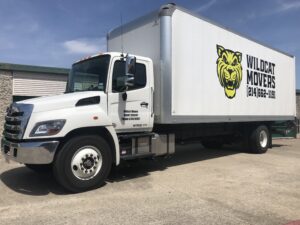 Flat Rate Long Distance Moving
Call Wildcat Movers today for an Exact Up Front Quote on your Long Distance Move.
Moving can be a challenging time, especially when it comes to long distance moves across the state. Whether you're relocating to a new city or moving to a different part of the state, the process of packing, loading, and transporting your belongings can be overwhelming. At Wildcat Movers, we're here to help make your long distance move within the state a smooth and stress-free experience.
Same Day Long Distance Moving Service
Most of our Long Distance Moves within Texas are done in 1 day. As expert long distance movers, we understand the unique challenges of moving long distances. That's why we offer comprehensive moving services designed to meet your specific needs, from packing and loading to transportation and unloading. Our team of experienced movers will work with you every step of the way to ensure a successful move. Often, in the same day.
When you choose Wildcat Movers as your long distance moving company within the state, you can expect:
Professional Packing and Loading Services
Packing and loading your belongings for a long distance move requires skill and expertise. Our team of professional movers are trained to handle all types of items, from fragile glassware to bulky furniture. We use high-quality packing materials, padding, and wrapping to ensure your belongings are protected during transport.
Secure Transportation of Your Belongings
We understand that your belongings are important to you, which is why we take extra care during the transportation process. Our fleet of modern, 26-foot box trucks are equipped with all the necessary equipment to ensure safe and secure transport of your items. We'll keep you updated on the progress of your move and deliver your belongings on time and in great condition.
Efficient Unloading and Unpacking Services
Once your items arrive at your new home, our team of movers will work quickly and efficiently to unload and unpack your belongings. We'll ensure that all items are placed in their proper locations and that all of our packing materials are removed from your home.
Affordable Pricing and Excellent Service
We believe that moving doesn't have to break the bank. That's why we offer affordable, flat-rate pricing for all of our long distance moving services from Dallas across the state. We strive to provide excellent service at a fair price, ensuring that our customers receive the best value for their money.
Experience You Can Trust
With years of experience as a trusted moving company, we have the knowledge and expertise to handle all types of long distance moves from DFW to a number of metropolitan areas across the state. Our team of professional movers are committed to providing exceptional service and support throughout the entire moving process.
At Wildcat Movers, we're dedicated to making your long distance move from Dallas a stress-free experience. Contact us today to schedule your move and experience the difference of our expert long distance moving services.
Areas Wildcat Movers Service
Wildcat Movers offers our long distance moving service anywhere in the state of Texas including Houston, Austin San Antonio, College Station, Bryan, El Paso, Lubbock, Amarillo, Tyler, Waco, Wichita Falls, Midland, Odessa, Corpus Christi, Laredo and more!
.