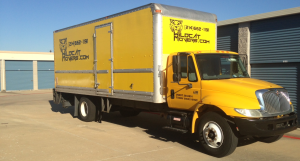 So you've found your new digs: You've signed all the paperwork, you've envisioned how you're going to decorate, and you've already started a list of all of the new-home DIY projects you've been dying to try. Now, the tedium begins: You begin to pack, and it hits you that you had no idea just how much stuff you'd collected living in your current home, or how exactly you're going to get it all moved. Instead of heaving everything into a box in a rushed panic, here are five moving tips to make your moving day easier:
1. Organization Matters
The smallest of details really come into play on moving day, and by taking a couple of extra steps, you can take the stress out of packing. By using different colored tape to label boxes from the same room (for example, blue tape-kitchen, yellow tape-bathroom) you can easily sort through your boxes when they arrive at your new home. Keep a list to record how many boxes you've labeled with each color.
2. Take a Picture of Your Electronics
Having a reference photo will help you tremendously when it comes to hooking up complicated electronics or electronics where all of the cables are the same color. Keeping these cables in labelled sandwich bags also helps the organization process. (and keep sandwich bags on hand for keeping small things like furniture screws in!)
3. Know Your Area's Bulk Pick-Up Day
If you know you're planning a move, knowing when your area's scheduled bulk pick-up will save you time, money, and effort if you're planning on getting rid of large items or unwanted furniture. Many neighborhoods have these bulk-pickup days multiple times throughout the year.
4. Keep an Overnight Bag With Necessities Handy
If you don't have time to unpack and organize your belongings in your new home on moving day, have an overnight bag ready with clothes for the next morning, toiletries, and any medications you take on a daily basis. Having your everyday items within reach will eliminate the stresses of having to dig through all of your boxes.
5. Call Your Local Moving Company
Call your moving company in advance. By having a date locked in, you're sure to have ample time with your movers on the day of the move and don't forget:  Ask questions! Your local Plano movers have a long-list of moving tips and are happy to answer any questions you have or address issues with any of your items that need special attention. After all, everyday is moving day for Wildcat Movers!