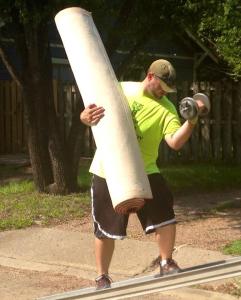 Plano Movers on The Move: Your local Plano Movers (That's us!)
Give You a List of Attractions and Events in Plano, Texas!
As your Plano movers, we're all around town talking to folks that have the best inside information on things to do in Plano, Texas.  Whether you're a lifelong resident or you just had your Plano movers haul all of your belongings into town for the first time, we've got a list for you of attractions and events that are not to miss!
Visit Arbor Hills Nature Preserve!
One the guys on our team of Plano movers has a real affinity for hiking-and his biggest recommendation was to visit the Arbor Hills Nature Preserve. With tons of trails both paved and natural, you can enjoy a nature hike by yourself or in a group. Good for all ages and skill levels!
2. See The Animals and Old Farm Equipment at Heritage Farmstead Museum
If you like antique farm equipment and history, your Plano movers recommend the Heritage Farmstead Museum. You can see how the folks from the past used to till up the land, and the kids will love seeing all the farm animals.
3. Enjoy Historic Downtown Plano
If your Plano movers have just moved all of your belongings to your new home in Plano, and you're looking for a way to get into the nitty-gritty of your new town, there's nothing better than spending some time in downtown Plano! The shops, restaurants, events, live music on First Fridays, and people watching can't be beat! By exploring your new downtown, you can meet your neighbors and learn more about what your new city has to offer! Your Plano movers welcome you to your new town!
 4. See The Interurban Railway Museum
A look into the past into some of America's oldest and greatest means of transportation for people and products alike, the Interurban Railway Museum offers a glimpse into days gone by. A great day to spend with little ones or even for a unique datenight!
5. Have Fun at Amazing Jakes
Amazing Jake's is a fanstastic place to plan your next group outing, a fun school  trip,Meet-Up Group,  team party or any other group outing you can conjure up. Located at Collin Creek Mall, this fun-filled paradise features go-karts ( and who doesn't love go-karting!?) bumper cars, mini- golf,  arcade games, laser tag, a rock wall for climbing and much more. Great for kids or even a party of adults!  Your Plano movers have spent some great days at Amazing Jakes, and it comes highly recommended!
Whether or not you use these tips on fun attractions in Plano or you come up with your own while discovering your town, Plano is a great place to live, work, and raise a family. We'd love to hear your comments-what are your favorite things to do in Plano? Leave them in the comments section and let your new neighbors know what you want to get up to-you never know what could be your new favorite thing about your town.
If you're thinking about moving to Plano or are already a resident and looking for Plano movers to help you get your stuff to your new place, Wildcat Movers has you covered. We offer full-service moves including packing your belongings and hauling everything to your  new digs, to just a loading and unloading service. Whatever your moving company in Plano needs are, we can help! Feel free to contact us with any questions, moving issues, or just need some advice on how to pack the perfect box! Your Plano movers (us!) are highly trained on how to move even the most delicate of objects, insured, bonded, and ready to assist you in moving into your new home.
Let us know what we can do for you! Wildcat Movers is proud to be YOUR Plano Movers. We also service surrounding areas if you are looking for something beyond a Plano moving company. We have Bryan Texas Movers, Addison Movers, Dallas Movers, Fort Worth Movers, College Station movers, and more! We're here to help!
Your Plano Movers wish you happy moving!
Wildcat Movers is a moving company in Plano, Texas specializing in apartment moving, home moving, full-service moves, loading and unloading, and more. Contact your local Plano movers today for a free quote.
Wildcat Movers
(214) 662-1191