Yelp Reviews Plano TX Moving Company
Wildcat Movers is consistently one of the highest rated movers in the Dallas Plano metroplex.
Check out some of Wildcat Movers Plano Texas Yelp Reviews.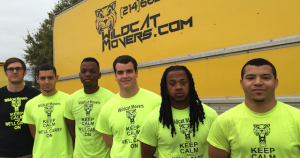 Best money you will ever spend!
Moving is always a pain. These guys were professional, swift, and courteous. When they moved me into my new apartment one of the guys was actually sprinting down the hallway! SPRINTING!!! Super pleasant experience! Will recommend to everyone.
-Lauren R. Yelp Review Wildcat Movers Plano
Customer Reviews Plano Movers
First off let me say this was the fastest move I've ever had and I move a lot. I had Anthony and Ken as my movers and they did a great job on handling everything and made sure nothing had a scratch whatsoever. They finished the move in 3 hours even with the drive and accident on the highway. I'd highly recommend using wildcat for your next move if they are available in the area!
-Carson S. Wildcat Movers Yelp Page