Living in an apartment can be convenient: On-site laundry, 24-maintainance, and a community pool only a few steps from your door! However, moving from an apartment (or TO an apartment!) can be tricky, leaving you with awkwardly-angled stairs, elevators, narrow doorways, and more.
Wildcat Movers has specialized in being apartment movers since the beginning! Our highly-skilled team of movers know exactly the right tricks to get that oversized sectional or kingsized bed from your apartment, down three flights of stairs, and to the moving truck!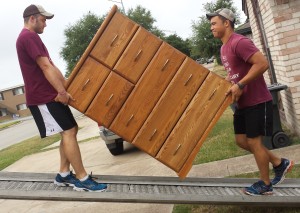 Moving by yourself, or even with a friend, without the right skillset, can make your moving day a hassle-and moving can be chaotic enough as it is. By hiring a local moving company who's had extensive experience in maneuvering down narrow stairwells with sharp angles and who are used to coordinating with apartment offices, you can take the stress out of doing the lifting and focus on other things-like forwarding your mail or cleaning up your old apartment, giving you a better chance of getting your deposit back.
Although apartment living can be great- (after all, some have their very own dogparks, fitness centers, and conference rooms!) moving in and out of them can be tiring. Letting a professional moving company deal with the hassles of relocating you from your apartment or moving you to a brand new apartment can ease the stress of your move so you can enjoy the new beginnings in your new neighborhood!
As always, "Keep Calm and We'll Carry On!"