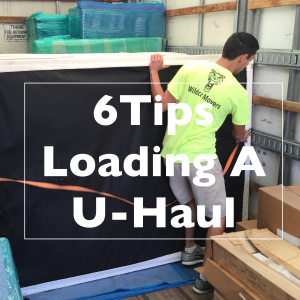 Loading a Moving Truck 101
Loading a Moving Truck correctly is mixture of Math, Science, Art, and Tetris mastery. Hiring professional movers like Wildcat Movers to load your moving truck is always a smart move. However, if you elect to do this task yourself here are some tips to make your Uhaul Load a success.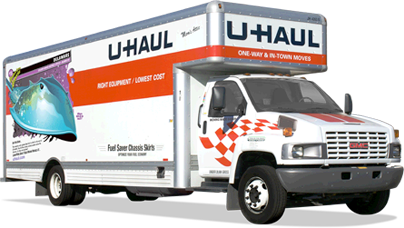 Tip 1: Load Truck In Tiers
Load your moving truck in strategically planned tiers as follows:
Side to Side (Left to Right OR Right to Left)
Floor to Ceiling
Front to Back
One of the most common mistakes when loading moving trucks is placing long furniture (dressers, chest of drawers, mattresses) perpendicular to the front of the truck instead of parallel as seen below.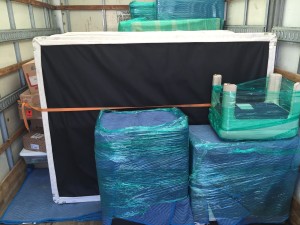 Tip 2: Moving Truck Load Order
The order in which you load items into a Moving Truck is crucial in making sure that your items stay put. There are always exceptions to the rule, but Wildcat Movers has developed the following procedure for successfully loading our Moving Trucks.
First Load Boxes. Organize them by similar size, and shape to maximize your truck's capacity.
On top of the boxes Wildcat Movers Plano TX loads what we call "Top Load": dining chairs, couch cushions, bags, kids toys, lawn chairs. We continue to put Top Load on top of the base tier throughout the load to fill in spaces.
Next, load your square wooden furniture including dressers, nightstands, chest of drawers, buffet, china cabinet, and tv stands. Loading these heavier pieces of furniture behind the boxes will help keep them secure during transport.
Behind the square furniture Wildcat Movers Dallas TX loads mattresses and box springs. We will place a moving pad on the floor of the moving truck so the mattress and box spring do not get dirty. In between the mattress and box spring we place flat screen TVs, glass table tops, or glass picture frames. This holds them upright during transit.
Next we will load the headboard and footboards vertically behind the box springs.
To hold in the mattresses we next load the couch. On top of the couch we load the love seat or recliners upside down so they fit like puzzle pieces.
If there is a washer and dryer Wildcat Movers will load those next to secure the load.
If there is room for the dining table with the legs still on we will load it last. If space is running low we will remove the legs, and load the dining table top vertically to save space.
On the back of the truck we load any other loose items such as bicycles, fitness equipment, patio chairs, and bbq.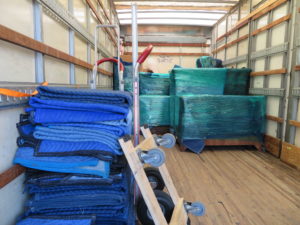 Tip 3: Rent Plenty of Pads
Make sure that you rent plenty of pads to protect your furniture in transport.
1 Pad for every small furniture item: dining chairs, nightstands.
2 Pads for medium size furniture: dresser, couch, recliner.
3+ Pads for large furniture: armoire, chest of drawer, 8 chair dining table.
The best way to minimize furniture damage is to shrink wrap moving pads to the furniture inside the house before you ever start moving. If you don't want to spend the time pad wrapping in the house at a minimum pad all your wooden furniture inside the truck during the loading process.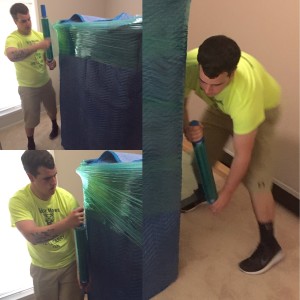 Tip 4: Buy Straps to Secure Load
Buy a 4 pack of straps to secure your load in the moving truck. You will definitely want to put 1-2 straps on the end of your load to hold it secure in transit. Straps are also very handy to secure tall furniture to the wall of the moving truck.
Tip 5: Buy New Boxes
Having similar shaped moving boxes will make loading your items much easier and efficient. It will also limit the chances of your boxes collapsing, and breaking the items inside.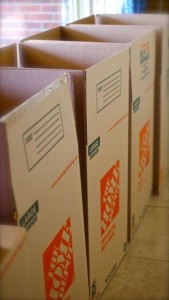 Tip 6: Rent Dollies
Rent a 2 wheel box dolly to move boxes and square items, and a 4 wheel furniture dolly to help with the large heavy furniture.
Moving Tips and FAQ
Wildcat Movers has a Moving Tips and FAQ questions page that covers many topics that can help make your next move a success. Follow this link for more information: Wildcat Movers Tips and Frequently Asked Questions.
Hope you found this article on How To Pack a Moving Truck helpful.
Hire Wildcat Movers for Mover Help Loading or Unloading rental moving trucks Uhaul, Penske, PODS, Packrat, Enterprise, Budget, UPack, ABF, and Ryder.